To celebrate the 2 Year Anniversary of one of our joint Team Dubai and Singapore projects, we're looking back at some behind the scenes moments on our Parker Pen 'Blue' Film, directed by Pabz Alexander with British DOP Tom Welsh, and produced by Gaurav Mishra and Rory Cavanagh.
Below: Director Pabz Alexander (center) and Talent Olivier Gabillard (right) shooting on the train from Hatton to Ella, Sri Lanka.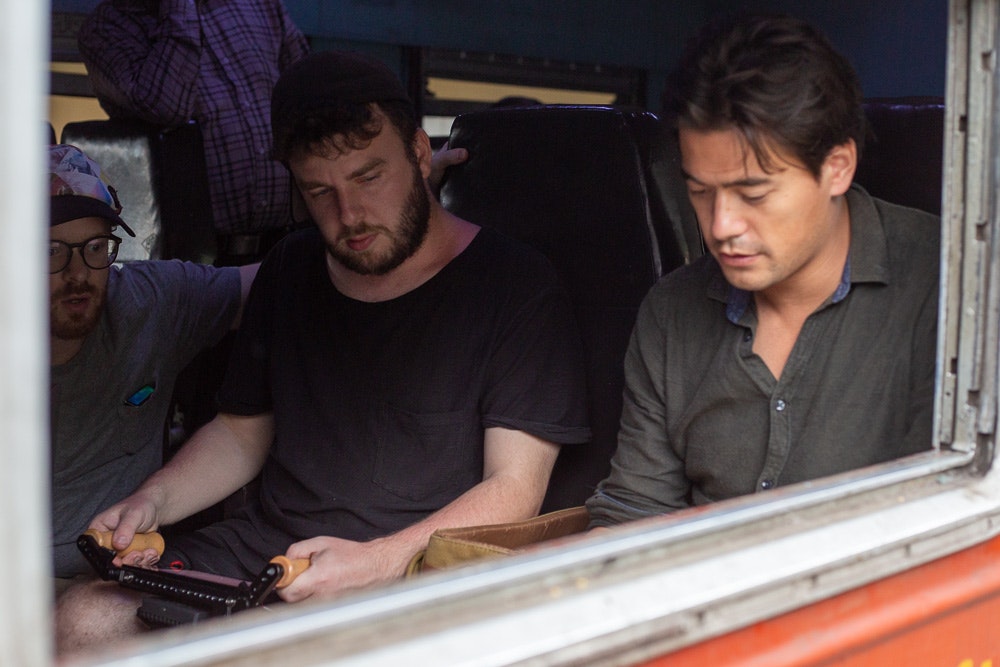 The Parker Pen brief was initially a Dubai project, brought to us by creative agency Face 2 Face (part of Dentsu McGarryBowen) and Creative Director Fabian Fuether. The brief called for the backdrop of an Asian city skyline during blue hour to reflect the Special Edition Parker Sonnet SE Fountain Pen - the one featured in the film was a beautifully engraved blue pen. We brought in the Singapore team to work on the project together, and proposed a minimal crew to shoot in both Singapore and Sri Lanka, offering a diverse landscape from metropolitan skylines, to rolling hills and beautiful coast lines.
Below: Talent Rachel Mak in Downtown Singapore during blue hour.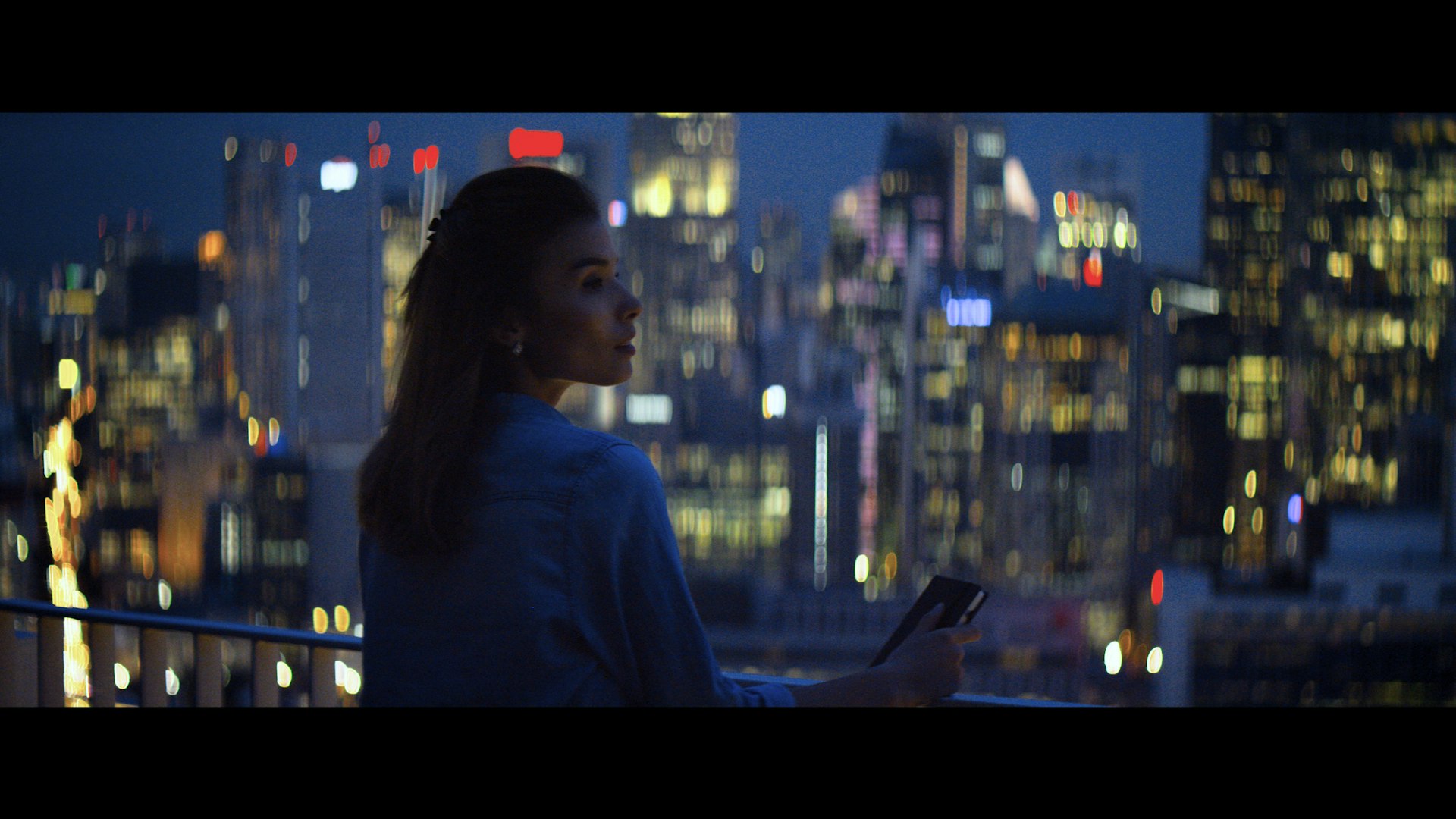 In Singapore we shot in the Downtown Central Business District, the busy Orchard Road area, and Chinatown's historic streets, capturing the energy of neon lights amongst the hustle and bustle of city life to glimmering rooftop views of the cityscape.

Below: DOP Tom Welsh (left) shooting talent Rachel Mak (right) in Chinatown, Singapore.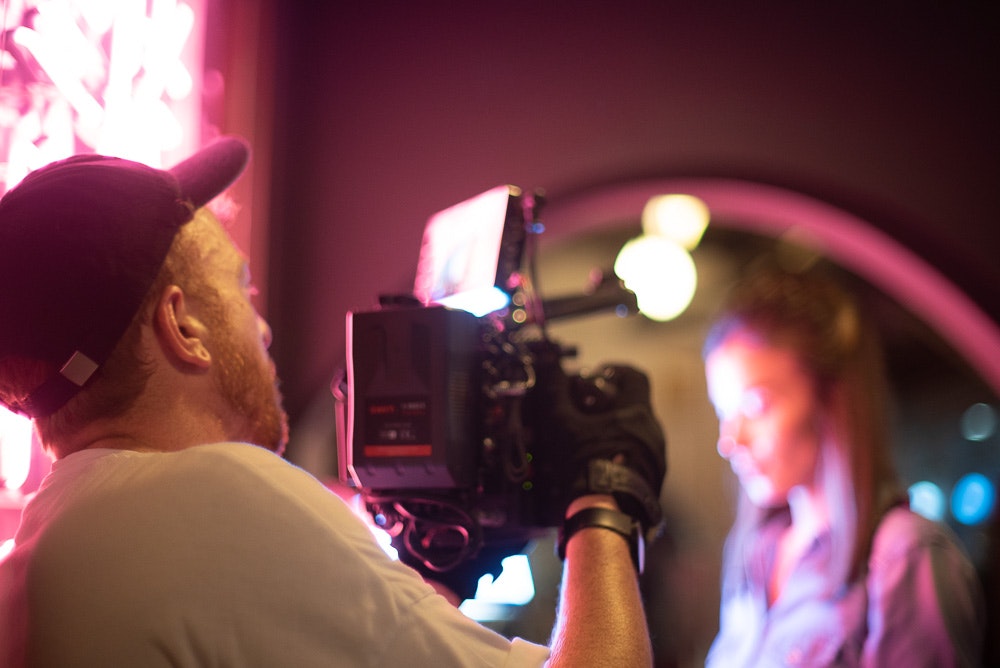 Shooting in Singapore provided the much anticipated beautiful city footage we were looking for, so we shot on location in Sri Lanka to contrast that by capturing the wild beauty of the landscapes featured in the film. We even experienced some of our own behind the scenes adventures along the way, from climbing to the top of Little Adams Peak with all our equipment and filmmaking gear in the freezing rain, to filming in a jittery sea plane that only fit 4 people, and to chasing small town buses through a thunderstorm.

Below: Producer Gaurav Mishra (center) with talent Olivier Gabillard (right) on the train from Hatton to Ella, Sri Lanka.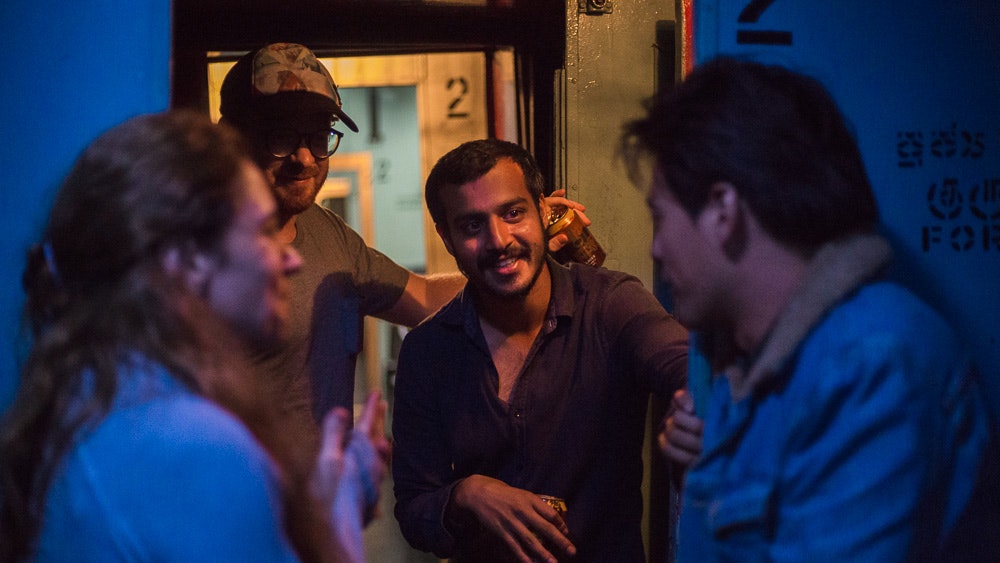 When we first touched down in Sri Lanka we headed to the beautiful hillsides in Kitugala for one of our most memorable scenes on the Kelani River. Both Director Pabz and DOP Tom got in the water to get initial handheld shots of Olivier in the kayak before we sent him down the river and chased them with a drone for our key action shots. Without the luxury of walkie talkies we had to shout to our talent Olivier when to stop, however, he didn't hear us so he ended up kayaking down some rough rapids for more than 2km until he reached a small village. We ended up needing to send our driver and the minibus down to the village to collect him. DOP Tom then captured the abstract underwater shots with a Sony A7s and waterproof casing, leaving him soaked and freezing before catching our train for the next scenes.
Below: Director Pabz Alexander (left) and DOP Tom Welsh (center) shooting talent Olivier Gabillard (right) on the Kelani River in Sri Lanka.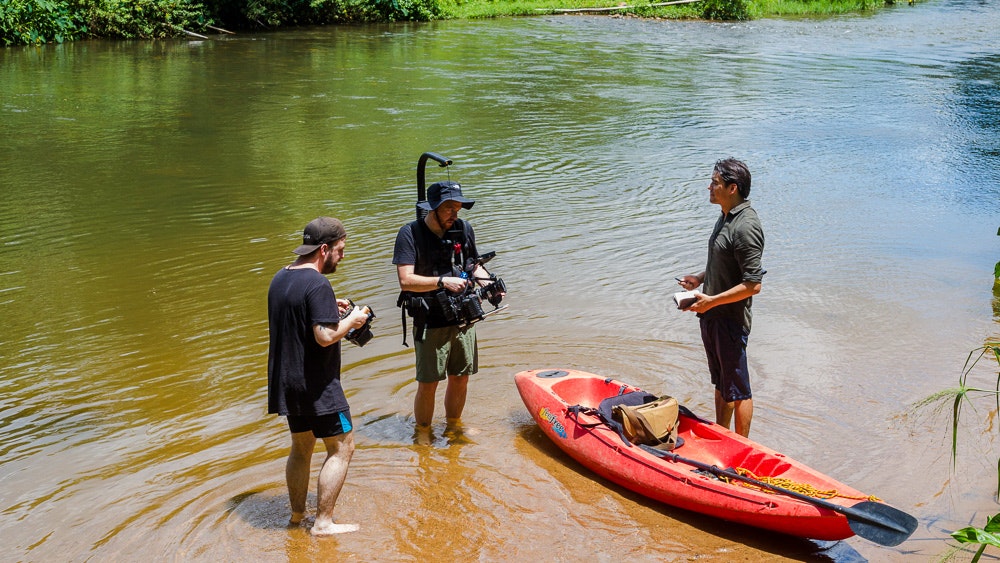 With a few delays leaving Kitugala we were cutting it close to making our train on time, arriving at the station with only minutes to spare. Luckily the train was an hour late so even had time to take a local tuk tuk to the nearby supermarket to get beers for the long train ahead. Though we had first class tickets, the cabin didn't match the vibe of where we wanted to film so we gave up our seats and moved through to economy to get more of an authentic feel. Once the sun went down and we got all the shots we needed, we managed to all enjoy a few beers with the other passengers, a mix of locals and tourists, before reaching Ella.
Below: Executive Producer Michael Ahmadzadeh (right) sharing a beer and conversation with locals at the Hatton Train Station in Sri Lanka.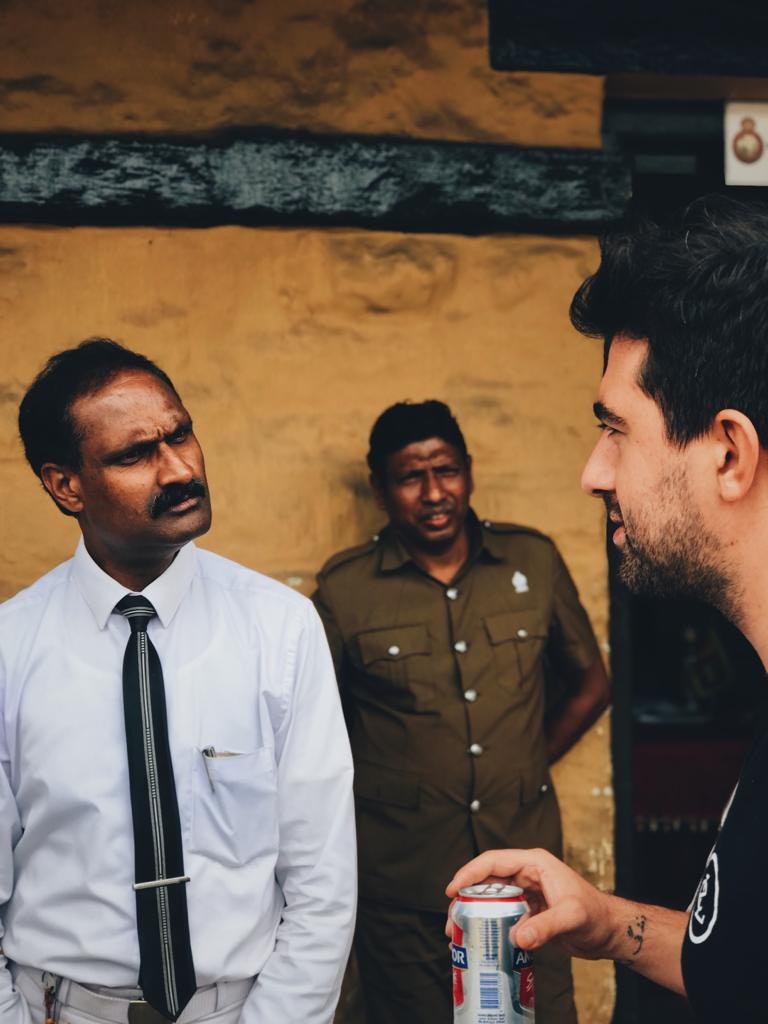 Our next shot was getting the train passing over the famous 9 arch railway bridge across a stunning valley in Ella. We found a perfect vantage point for our drone shots at a small local juice hut with the best views of the bridge, as well as the best smoothies. Between us, we must of had 20 smoothies. There were only 5 trains daily that passed that bridge, and we managed to capture 4 of them - but we only have one take with the drone each time and luckily Director Pabz nailed it.

Below: Talent Olivier Gabillard on the train from Hatton to Ella, Sri Lanka.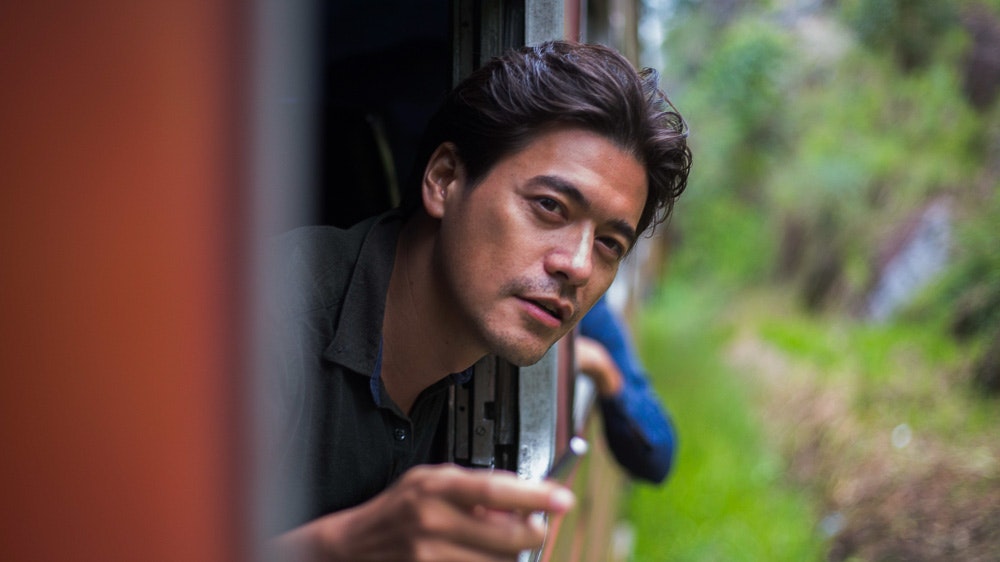 One of our final shots was at 'Unawatuna' - a secret spot we had filmed at on previous shoots, on a clifftop, hidden behind an old temple. It offered stunning rock faces overlooking the ocean, with huge waves crashing against them. We shot both Olivier and Rachel here, for the final frames in the film, showcasing the beautiful blue hour over the ocean, paralleling the blue hour shots of the skyline in Singapore.

Below: Talent Olivier Gabillard in the scene shot at 'Unawatuna' in Sri Lanka.

After one final crew dinner over a few beers we said our goodbyes before heading back to Singapore to start the edit. Overall, it was a wonderful few days of shooting across such diverse locations, and it one of the most memorable projects we've ever worked on.
Written by Rory Cavanagh
Watch the films here.