Nicholas Lam has dropped a brand new spot for top clothing brand, Timberland.
Spanning the globe, from New York to London and Shanghai, his 'The Conversation' piece highlights the development of the famous boot and how it has become a cultural icon.
Lam is known for his cinematic, emotional and kinetic visual style, something which the core of his films often focuses on.
Here, Lam discusses his latest Timberland project and the future of filmmaking after the pandemic.
Check out our chat with the filmmaker below.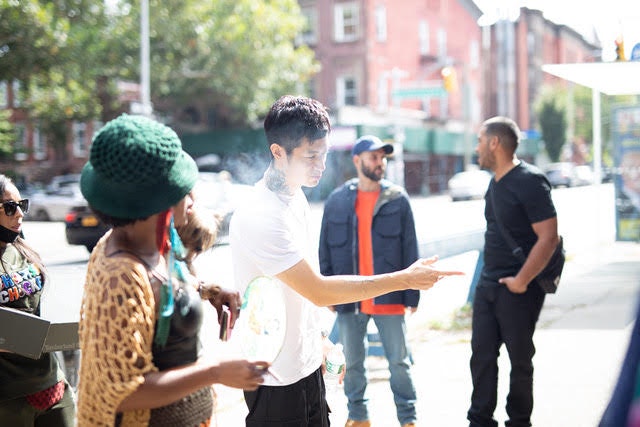 ---
How did you get involved with the Timberland project?
The agency producer and I have known of each other for some time now, having many mutual colleagues from the music video and commercial world. When this project came up, she felt my visceral and gritty style, combined with my past experience shooting docu-style branded content, would be a good fit for it. So she put me forward as one of the director candidates and I landed the gig.
How did you approach the project?
I started by examining what was at the core of the brand — what was the story they wanted to tell? How do I portray our talent in a way that is 100% sincere to who they are? There is no substitute for the best story there is — real life. With that as our guiding principle, even though we filmed across three continents — Asia, North America and Europe — it ensured a tonal and aesthetic coherence to everything filmed chiefly because it was all rooted in the same fundamental philosophy.
What was the message you were trying to convey with the film?
As a brand, Timberland has been around since the 70's, but it wasn't until the influence of 90's hip-hop that it became an icon, starting in NYC, reaching upstate and across New York, to the Northeast US and Canada, and moving across the globe. The iconic wheat "Timbs" are beloved by so many, and they became a symbol of determination — the hustlers' uniform — then and now.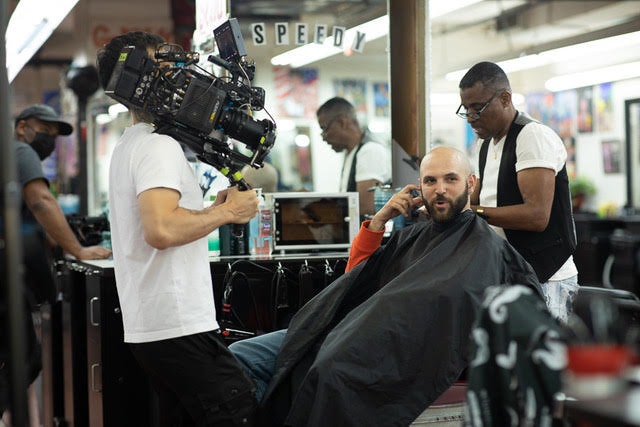 When we began thinking about the campaign for the original Yellow Boot, we knew we had to start with the communities who built Timberland's brand. We talked to people. We listened to the way they talked about their Timbs. It was real, it was special, it was visceral...it was a love story. And we knew we had to acknowledge this in a meaningful way; to respect the way the community took this incredible boot innovation, and literally revolutionised culture with it. It's a celebration of the real neighbourhoods, starting with New York, who rocked Timbs with style and confidence, and it's about the role the boot plays in the lives of people who are moving the world forward.
For our narrator, we knew we needed a legend in the hip hop community. We felt there was no better choice than music and style star Westside Gunn. Born and raised in the harsh, impoverished part of Buffalo where drugs and violence were the daily norm and resources to overcome such conditions were absent, he managed to start a clothing brand, Griselda by Fashion Rebels (GXFR) which eventually funded the highly successful rap endeavours of himself, his brother Conway the Machine, and cousin Benny the Butcher, known as the Griselda crew. Today, he is a source of inspiration and influence for people like Ye and Virgil Abloh, and his crew is given credit for bringing that gritty New York sound back to rap. He is one of the most iconic figures in culture today with co-signs from anyone whose voice matters.
How has the pandemic impacted or changed your style/approach to filmmaking?
Prior to the pandemic, remote directing wasn't really a thing. At least, it wasn't nearly as ubiquitous as it is now. These days, on 'travel jobs', you almost have to fight for a reason not to shoot remote. Obviously, the pandemic isn't over yet, and the international border situation is constantly in-flux based on Covid cases. I was fortunate enough to travel to New York to shoot the main portion of the film, since that was to set the aesthetic tone of the whole piece. With that visual language set, I then remotely directed teams in the UK and Shanghai for the European and Asian components, respectively.
An extra degree of preparation and patience is required when directing remote, because you can no longer walk up to an actor and cheat them a couple inches to the left, demonstrate for them a different way to move, or switch up their eye-line. Everything is a game of (literal) telephone now, sometimes made all the more complicated if translators are required. Yet, the fundamental job of directing hasn't changed — that is, being a strong communicator. We just have to flex those supporting muscle groups a bit more.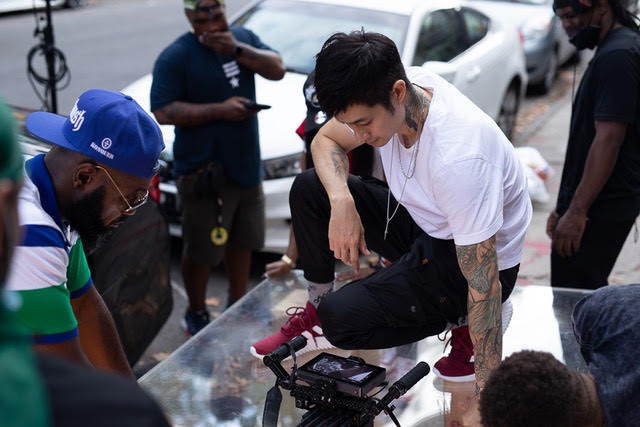 Above: Nicholas Lam on set of Timberland
How do you see the industry moving forward, coming out of the pandemic?
I think remote directing and zoom meetings are here to stay, though to what extent is anyone's guess. Production companies, agencies and clients now have heightened sensibilities with regards to working conditions and cast/crew safety, which is a great thing.
Mask wearing will be less stigmatised, in general. It also means we might think twice about who really needs to jet across the world just to be on-set when a livestream feed will do just fine. It eliminates wasteful excess on budgets as well as helping to reduce our carbon footprints, and nobody can argue against that.
What's next for Nicholas Lam?
My team and I are bidding on a super top secret project — I'm not hyperbolising, it's literally top secret classified! Separately, I'm continuing to develop two feature film projects I wrote and intend to direct: one is an art-house coming-of-age drama about a teenager who loses his whole family in a sudden car accident.
The other is action-adventure about a retired Hong Kong assassin that teams up with a grizzled FBI agent when his daughter is kidnapped by the Yakuza. James Hong, Kelly Hu and Amy Hill are attached to star, and Michael Goi, ASC, attached as DoP.
---
To see more of Lam's work, click here.